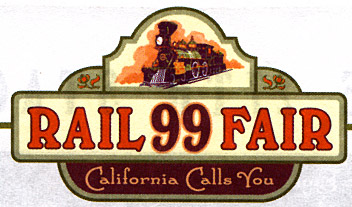 Updated 04/06/2000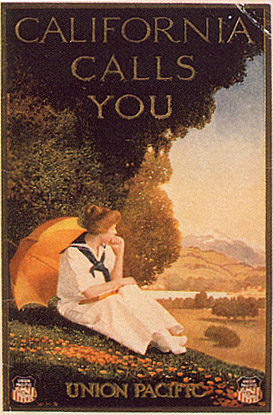 Rail Fair ' 99 Photo Gallery Page 2
The photos on this page are shot in the evening just before the night shoot session at the fair.
Union Pacific #844 the day after the Tehema run. This morning she blew some boiler tubes that put her out of service. Later it was moved into the Sacto. yards to be prepped for a non powered move back to Cheyenne.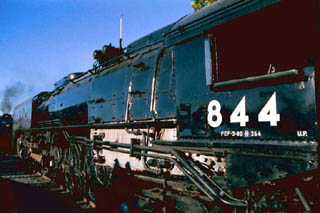 UP #844 was built in 1944 by the American Locomotive Co., its wheel configuration is 4-8-4, runs on oil, drivers are 80" and she weighs 907,890 lbs. The last overhaul was in 1996.
SP #4449 sits in the last of the sun while SF#3751 rests in the shade.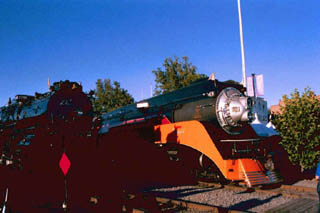 Graham County Railroad #1925 glistens in the sunset. This Shay Locomotive hauled lumber its whole carreer in North Carolina. Built by Lima, 1925, 3 truck shay, standard gauge, fuel coal, 140,000 lbs.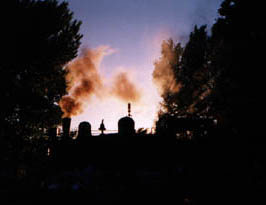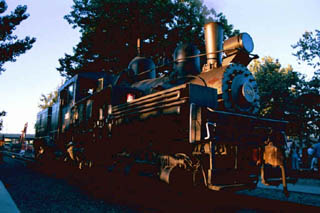 Sumpter Valley #3 is a Heisler (2 truck) locomotive that performed lumber duties in Oregon, & Idaho. Restored in 1996 by the Sumpter Valley Raiload Restoration Inc. Gauge 36", built 1915, fuel wood, wt. 65,000 lbs.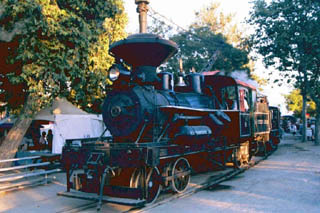 In the foreground is SP #5623 (black widow) GP9 built in 1955 with 1750 diesel horsepower and weighs in at 253,500 lbs. The background loco is WP #2001 GP20, 2000 horse power retired in 1985 belongs to the Portola Railroad Museum.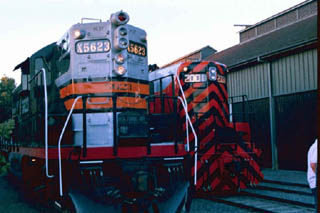 Another shot of SP #4449 right and SF #3751left. The famous #4449 was the power for the freedom train during the 1976 bicentinnial. She pulled the Daylight passenger trains between San Francisco and Los Angeles in the 1940s. Restored in 1975 in Portland Oregon where she resides. Wheel type 4-8-4, fuel oil, drivers 80", built 1941 by Lima, owner city of Portland.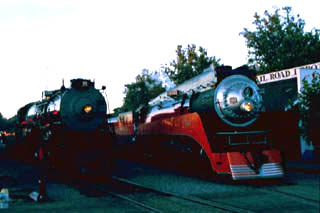 Fire Breathing Dragon! Lurks in the shadows at railfair just before sundown. UP #3985 getting ready to push #844 out into the Sacto yards is the largest operating steam locomotive in the world. Built in 1943, wheel type 4-6-6-4, drivers 69", fuel oil, wt 1,069,800 lbs! What else can I say. Union Pacific owns both #844 & 3985.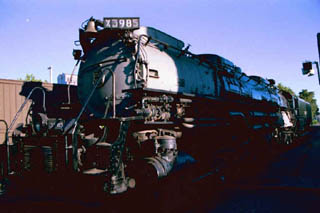 Santa Fe #3751 making a move up to pose with SP #4449.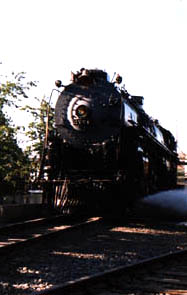 Built in 1939 this replica of De Arend (the eagle) that was originally built in 1839 was the first train to haul a train to Amsterdam from Haarlem in 1839. From Holland the original trip was 10 miles at 23 miles an hour, a big deal back then. Type 2-2-2, fuel coal, gauge 76",wt 12 tons.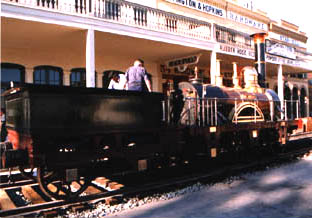 Hee Haww, this wild tractor rig is steam powered and fully operational. With a loud whistle that can blow out your ears she moves slow with steel wheels rippin the ground and spitin water.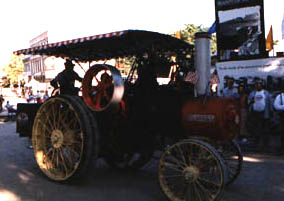 Mattole Lumber #1 operated the 2 mile road between the Mattole river and the Sea Lion Rock wharf in Northern California. With the Sacramento city in the background this little guy is getting ready for the night shoot. Built 1908, type 0-4-2, gauge 36", fuel wood, wt. 17,000 lbs.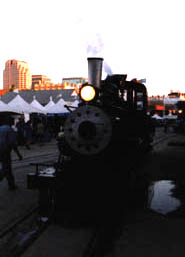 SP #2467 in her first appearance is a pacific type 4-6-2, built in 1921. These are the locomotives that ran the Overland Limit in the 1920s & 30s between Ogden Ut and Sparks Nv. Restored by the Pacific Locomotive Association in Niles Canyon Ca. Fuel oil, drivers 73.5".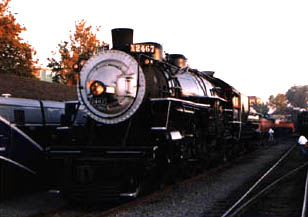 Eureka & Palisade Railroad #4 carried lead & silver out of the mines of Eureka Nevada to the Central Pacific mainline at Palisade. Veteran of motion pictures this beatifully restored locomotive resides in Las Vegas. Built 1875, fuel wood, drivers 42", type 4-4-0, wt 45,000 lbs.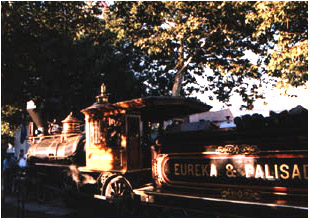 Back to Top
©2000 Digital Dimensionz Contact
Webmaster
Back